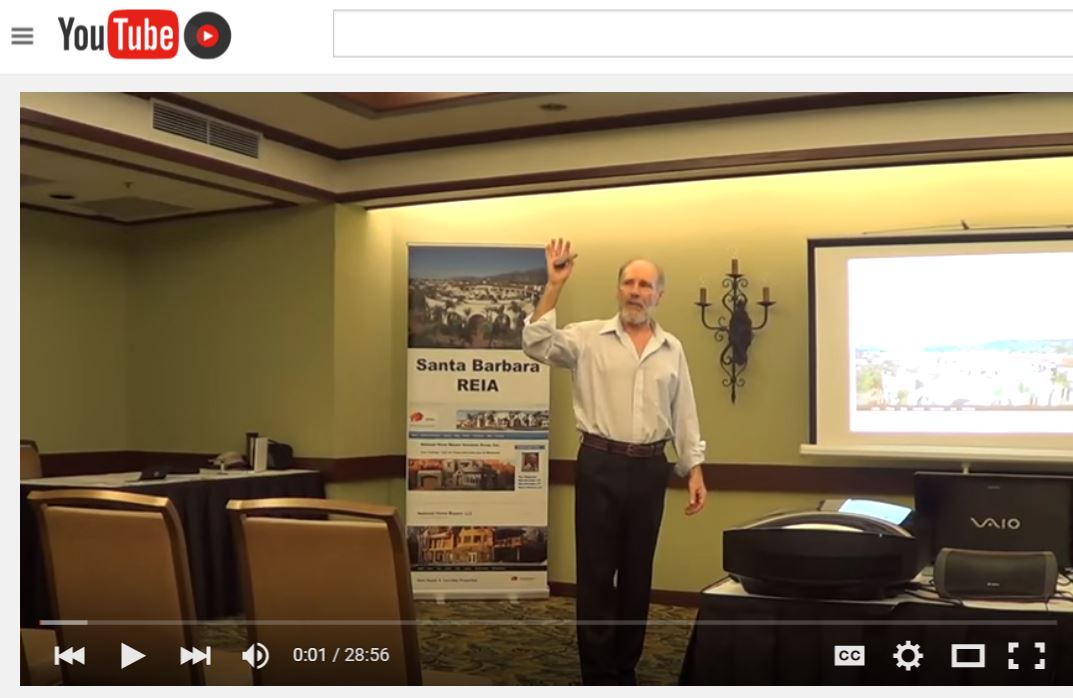 Joint Venture Program – Our JVP for Real Estate Investing is for Investors that don't currently have the time, desire, experience, and just don't want to spend the time with Rental Properties, Tenants, Contractors, and more, but still want a good return on their Investment.  If you have a full-time career our JVP program is the perfect transition for retirement planning.  You build up your Real Estate portfolio and then use it and the education you have learned to make it your retirement career and business, where no one can fire you, transfer you to another city, or limit the amount of income you can generate.  You can live wherever you want and have a national business.  If you already have Rental Properties you can consider our JVP program as an extension of your Real Estate Portfolio.  You don't have to spend any time on these Rentals and you still get a good return on your Investment.   Click on our YouTube video above to get a better idea of how this works and some of our other businesses. You might even qualify for our FREE Training.
Lease-To-Own Properties – There is a big difference between Standard Rental Properties and Lease-To-Own Properties.  The only repairs you will ever have to do are those to get the property Rent Ready.  After that the Tenant is responsible for all repairs.  We usually find properties that only need about $5,000 to get them Rent Ready.  We have a list of a few example properties we own below and some are available for our JVP Investments.
683 E 159th Street, Cleveland, OH 44110
1311 Ferguson, Fort Wayne, IN 46805
1436 Taylor, Fort Wayne, IN 46802
3306 Oliver, For Wayne, IN 46803
4338 Egyptian Cv, Memphis, TN 38128
3180 Beauchamp, Memphis, TN 38118
103 Keefer Drive, Penn Hills, PA 15235
412 Oregon Trail, Monroe, LA 71202

Lease-To-Own Properties in Areas You Want – These are properties in areas of your choice.  You tell us what you are looking for and we find it.  These properties have values of $30,000 to $200,000 and will generate $500 to $2,000 of Rental Income per month.  Their Return On Investment (ROI) is approximately 70% by the end of the first year.  Most of our Lease-To-Own Agreements are for 1 year only.  If we ever do go 2 years that is the max and it just generates more income from rent.  We split the 70% profit up 50/50 when we sell so you the investor make approximately 35% Return on your Investment.  Below is a very good simple example of the numbers.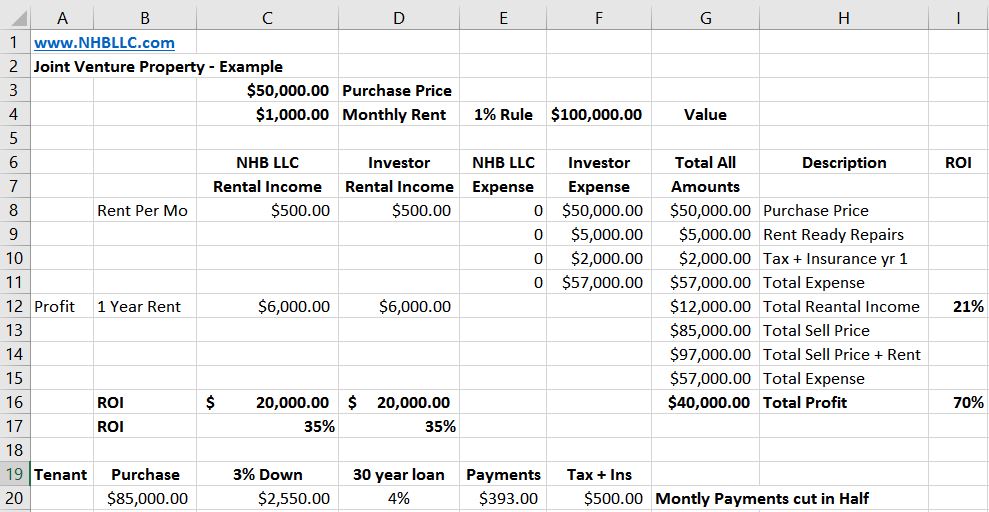 Depending on the property the purchase price is $30,000 to $200,000 which is the full price, No Loans, No Qualifying for Loans, No Mortgage Payments, No Banks, and No Credit Needed.  You could have really bad credit and still do this as long as you have the cash to make the purchase.  Of course if you would like a more expensive property in a better area we can do that too.  The numbers still work and you get higher rent.  The only hands on responsibility for our Investors is the decision process of what we purchase, when should we sell, what amount to accept when we sell, and what repairs will be do.  We at NHB LLC do all the rest which frees up your free time to spend as you normally would.
National Home Buyers LLC, will be your partner and we have 35 years of experience as Real Estate Investors.  We know this business and we know how to manage it.  That truly is the key to being successful in this business.  Experience and credibility does make a difference.  These Rental Properties are designed to be cash flow properties, not quick flip properties and selling in one year can be a tax advantage.
We will email you our JVP Agreements to look over before you make a purchase.  We don't get paid unless we have rental income and profit at the sell and we don't like wasting our time so we are real good at hiring and firing and evicting when needed and evictions are few and fare between on Lease-To-Own as they know their Deposit will by lost if they do not purchase.  We keep the income high and the expenses low and build good teams and most of all find the good deals that have equity already built-in.  We are also very good with the tenants, building those relationships, and helping them see the advantage of home ownership, especially when they see they can cut their monthly payments in half by purchasing with little money down and low-interest loans.
We can also help you do this Tax Free out of a Self Directed Roth IRA. The link to videos on that are below.  Watch the IRA videos and see how this is done TAX FREE. IRA Services and Michael McNair talk with links to the Meetings and Videos. These videos were generated from meetings of the Santa Barbara REIA as seen at IRA Investing.  You can join this for free.  You don't have to be a local resident of Santa Barbara.
Need testimonials?  We have JVP Investors who are happy to talk with you about how well it is working for them. We have Investors that have 4 or 5 Rental Properties with us which is a good indication they are happy or they wouldn't be doing more than 1 property.  We can also show you all the tracking and accounting, and pictures, which we put on Google Docs for you to access as seen at this Video.  Our Investors and Tenants also have login access for accounting and more through our Rental Property Management program as seen at www.NHBig.ManageBuilding.com
Get back to us with any questions so we can continue on the path of building your financial success.
If you are not ready to move forward on a purchase at this point in time but know someone who might be, send them a copy of this or our link at www.NHBLLC.com
Tell them I'll follow up with a call or email in a few days. Better yet ask them if it's ok for you to give their name and phone number to us so we can call them.  If they decide to partner up with us we will mail you a check for $500 as a referral fee once we close escrow.  If they purchase more you get another $500 each time they do.  The business from referrals can be a good income too!
Contact: Dan Ringwald – 805-680-2440 – text or call me any time