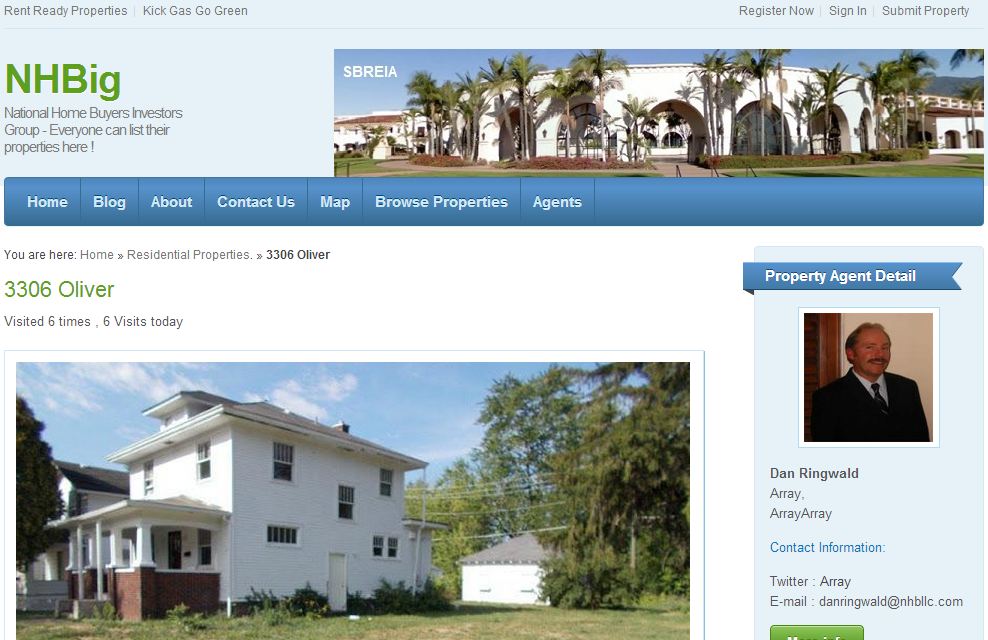 Working Examples as seen at NHBig

Hello Investors and Tenant/Buyers
Thank you for your interest in our Turn-Key and Rent Ready Properties.  These are properties which you the investor can enter into a Joint Venture Agreement with us at National Home Buyers, LLC and become a 50% owner on the deed and receive 50% of the rent each month and eventually 50% of the profit once we sell.  We do all the work and you enjoy a high return on your investment.  These properties can be purchased for as little as $20,000 which is the full price, not a down payment.
One of your first questions might be, who is Dan Ringwald, what qualifies him to do this, and what accountability and tracking is in place to handle all of this.  Below is a link to one of my videos that shows and explains some of this.
Rent Ready Properties – Accountability and Tracking -  Video
You are probably wondering what is the difference between Turnkey and Rent Ready.
Turn-Key Properties – These are properties we have purchased, fixed up, have tenants in and paying the rent, with a good track record of income and expense.  We have a list of these as seen below.  Just click on the properties below for more information.
683 E 159th Street, Cleveland, OH 44110
1311 Ferguson, Fort Wayne, IN 46805
1436 Taylor, Fort Wayne, IN 46802
3306 Oliver, For Wayne, IN 46803
4338 Egyptian Cv, Memphis, TN 38128
3180 Beauchamp, Memphis, TN 38118
5296 Breckenwood Drive, Memphis, TN 38127
103 Keefer Drive, Penn Hills, PA 15235
412 Oregon Trail, Monroe, LA 71202
134 Ranch View Loop, Carrizozo, NM 88301
Rent Ready Properties - These are properties we have not purchased and we will purchase when you the investor are ready.  These have values of $50,000 to $80,000 and will bring in $500 to $900 rent per month.  They will generate a return on your investment of approximately 18% by the end of the first year.  It's actually a 36% return but we are splitting that so you are getting 18%. By the end of the 6th year they will be generating 100% return because the $20,000 you paid to purchase will be paid off from the rental income.
Depending on the property the $20,000 is the full price, No Loans, No Qualifying for Loans, No Mortgage Payments, No Banks, and No Credit Needed.  You could have really bad credit and still do this as long as you have the cash to make the purchase.  Of course if you would like a more expensive property in a better area we can do that too.  The numbers still work and you get higher rent.  There is No Work for you to do because I, Dan Ringwald, and my staff through my company National Home Buyers, LLC will do all the work for you.
We will be partners on all properties purchased and we will have both of our names on the deed of the properties as equal owners.  You provide the financing and I provide all the work and experience necessary to make it a success.  The work is a full-time job of buying, selling, managing tenants, contractors, marketing, tracking, accounting, hiring and firing, insurance, taxes, and all that goes into successfully generating the rental income and eventual profit from the sale.
In the beginning you, the investor, pays for the initial purchase, rehab, and all expenses which total approximately $20,000 if that is the price range you decide to start with.  Once we place a tenant you will continue to pay for taxes, insurance, and any ongoing repairs.  If that is all we did you will still receive approximately 18% return on your money in the first year and 100% in six years because the $20,000 is paid off from the rent.
It just keeps getting better!  Now for the really good news, the exit strategy.  I am your partner and I have 30 years of experience as a real estate investor.  I know this business and I know how to manage it.  That truly is the key to being successful in this business.  Even though my Rent Ready Properties are designed to be cash flow properties, not quick flip properties, we will eventually sell them.  It might take two to five years and we will sell for a profit.
Below is an example of the Return on your Investment:
During ownership you get 50% of the rent each month and 50% of all deposits
You pay 100% of all expenses and get 100% of all tax write-offs
Once sold you get back 100% of all your expenses and 100% of your purchase price
Once sold you also get 50% of the profits
I do the majority of the work to make sure we have profits to split!
During ownership I get 50% of rents and at the sell I get 50% of profits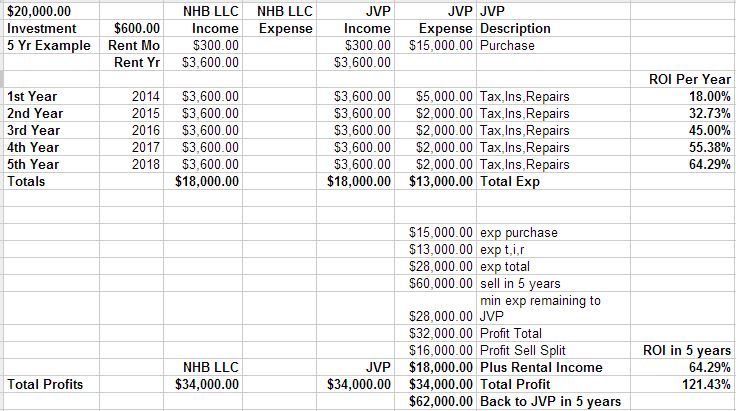 Here is an example of the ROI on a $20,000 investment after 5 years.  As usual there are no guarantees and as you should know Real Estate investing is risky.  Sometimes the results can better and sometimes they can be worse.  Given that I am on the Deed with you there is no other person in the world that will work as hard to make sure we are successful at this than me, Dan Ringwald.  I build teams to win which you can join as seen at my NHBigGoToMeetings.
Years to payoff the $20,000 through rental income
Return on you Investment per year
3306 Oliver is a link to a recently purchased rental in Fort Wayne IN that I am working on with one of my CA investing partners.
From the point of purchase my team and cleaned it up and rented for $600 per month in 30 days!  I have a number of states I do this in like IN, OK, TX, PA, TN, and more.  You will see I advertise this one for $600 a month but I also advertise to sell it for $55,000.
We help get the tenants get qualified to purchase the property which we do on a Land Trust tied to a Land Contract or Contract for Deed see Video.  Our properties are much lower priced than the video and we might only charge $1,000 down.  This to help get the tenants credit to 640 so they can eventually refinance into a standard loan which will cut their monthly payments in half.  If the tenant was paying $800 per month they can now pay about $400 per month on a standard 30 year fix loan which would include taxes and insurance.  During the Land Trust period the tenant pays the same amount they were paying for rent but now that Land Trust payment amount includes their taxes and insurance so they don't have to worry about saving up for those payments.  They just need to pay for all repairs which are not that much because the have already helped fix all repairs during the rental period.
If we get the tenant on a Land Trust to purchase that is the end of my investing partners  requirement to pay all expenses.  From that point on we become the bank and the tenant is responsible for all expenses, taxes, insurance, repairs, all expenses.  Again the taxes and insurance is paid out the tenants monthly payments which stays the same as their rental amount was.  We keep the mortgage payment the same as the rental amount so the tenant/buyer has a continued motivation to get standard financing.  Standard financing should cut their monthly payments almost in half which will also include taxes and insurance.  This is a very good reason for the tenant/buyer to eventually get standard financing which we will help them with through the credit repair program.  We then get cashed out, gain our profit, and move on to the next investment.
The Land Trust or Land Contract helps the tenant/buyer because after showing one year of payments made on time they qualify for a refinance, not a purchase, which means no down payment, just refinance.  They do have to get their credit up to the point of qualifying for a loan and work with www.640orFree.com/nhbllc so they do get qualified.
As mentioned above the working example at 3306 Oliver is just one of many.  Now that you know the general plan and how this works you can read through more information below as I expand on some of the details.
The main objective with these properties is to get constant steady cash flow.  We are not looking to sell them to other investors at a discount but if the tenant would like to purchase close to retail price then of course we would sell and gain our profit.  I am always working with the tenants to see if that is possible.  Another option is to get them qualified through www.NACA.com and if they are on Section 8 then Section 8 will actually make their mortgage payments, once they purchase the property. Why?  Because Section 8 would rather make a $300 per month mortgage payment than a $600 per month rental payment.  It's not easy getting Section 8 tenants to understand this opportunity and take action to complete it.  This is why we focus on rehab tenants.  They have more experience with the housing process and have a higher level of motivation to take action.  They can see the opportunity and how it will personally benefit them so they are more likely to take action.    This all takes a lot of work and education on my part and is one more example of why you, the investor, are paying me to do all the work to make this a success.
When you click on 3306 Oliver and go there you will also see a Zillow link.  If you click on the 10 year value on this property you will get the chart below.
What you will notice is from 2006 to 2011 the average price was about $60,000.  What this means is when the economy recovers and amount of foreclosures are down, this property will move back up to about $60,000.  This makes the standard 1% rule right on target.  Rent is usually 1% of the value so 1% of $60,000 is $600 which is what we are getting for this rental.  Notice the current Rent Zestimate is $674 per month which is currently what Section 8 would give for this property.  If we sold at $60,000 we would have a $40,000 profit at the sale.

This just came in today on 1-13-12 which shows a property I purchased as seen at my link above 1436 Taylor, Fort Wayne IN.  Notice the spike in value and the rental amount.  The spike in value may not last but the rent is currently $600 per month and will last.  Notice the $ sign down at the bottom between Dec 2007 and Dec 2009.  That was my purchase amount through an online auction for $2,000.  I did have to put another $12,000 into it to get it rent ready and that is still only $14,000 for $600.00 per month in rent.  These are the kind of deals I find that you as an investor can be on the deed with me as a 50/50 owner.  You collect 50% of the rent each month while I do all the work.
Typically I look to purchase these at around $15,000 and then have about $5,000 in rehab work done to get them Rent Ready.  Sometimes we can do this for a few thousand less and sometime it may take a few thousand more.  There are usually a few things on these properties that cannot be determined before purchase.  We might find some electrical problems because the properties do not have the power turned on.  We might find a plumbing problem because the properties do have the water turned on.  That is why we can't give an exact amount it will cost to get them Rent Ready but we can get very close.  One thing is for sure.  The less we pay for them the more it will take to fix them up to be Rent Ready.  We look for properties that have the least amount of work and focus on 3 bedroom and 2 bath homes in areas where the taxes and insurance is low.  If we do not already have a team in place I will create a team.  I do have properties that I have already purchased with tenants in place that investors can buy into as well.
I do all the majority of the work and you, as the Investor, will fund the pay for all expenses.  You will collect monthly checks for about $300 to $400 each month and get about 18% return on your investment by the end of the first year.  As seen above, each year your Return On Investment will increase until about the 6th year.  At that point your purchase price and all expenses have been paid off so your Return On Investment is 100%.  You will still get your purchase price, all expenses, and 50% of the profits when the property is sold.  We can sell the property in 2 to 5 years.  Remember the main reason for these properties is constant cash flow, not selling quickly for a profit.  Once the property is paid off and you are getting 100% Return On Investment, what investment is going to match that?  It will not be the bank or the stock market!.
If there is $20,000 or $40,000 in profit when we sell we split that too!  That will increase your Return On Investment.  In 5 years the rental income alone at $300 is $18,000.  If we get a property that brings in $800 per month and you get $400 per month which is $24,000 in 5 years.
I do all the work so you can continue doing what you enjoy without any distractions or wasted time.  We are both on the deed as 50/50 owners with all the needed legal contracts in place.  I will email you my contracts to look over before you make a purchase.  I don't get paid unless we have rental income and profit at the sell and I don't like wasting my time so I am real good at hiring and firing and evicting when needed.  I keep the income high and the expenses low and build good teams and most of all find the good deals that have equity already built-in.  I am also very good with the tenants, building those relationships, and help them see the advantage of home ownership, especially with a no down payment and low-interest loans.
I can also show you how to do this Tax Free out of a Roth IRA. The link to videos on that are below.  Watch the IRA videos and see how this is done TAX FREE.
Michael McNair
IRA Services Trust Company
Michael.McNair@IRAServices.com
Info@IRAServices.com
www.IRAServices.com
650-593-2221
IRA Services and Michael McNair talk with links to the Meeting and Video. IRA Services holds your IRA money.
These videos were generated from meetings of the Santa Barbara REIA as seen at IRA Investing.  You can join this for free.  You don't have to be a local resident of Santa Barbara.
You can live in North Carolina or China.  It doesn't matter because I structure the SBREIA for national and global members.  You should also be a member of your local REIA which you can find at www.NationalREIA.com.   The SBREIA is an affiliate of the NREIA.
Need testimonials?  I have investors who are partners with me.  I can get you in contact with them so you can hear how it is working out for them. My most recent investor is so happy with this process he is planning to purchase another one soon.  I can also show you all the tracking and accounting, and pictures, which I put up on Google for you to access as seen at this Video.
Get back to me with any questions so we can continue on the path of building your financial success.
P.S. If you are not ready to move forward at this point in time but know someone who might be, send them a copy of this or the link below and cc me in the email.  Tell them I'll follow up with a call or email to them in a few days.  If they decide to partner up with me I'll mail you a referral check for $500 once we close escrow on one, and each time they purchase one after that.  The business from referrals alone can be a good income.
Contact: Dan Ringwald